Model
Overview
The Model sub-panel summarizes the parameters and the features of a model generated by a single experiment.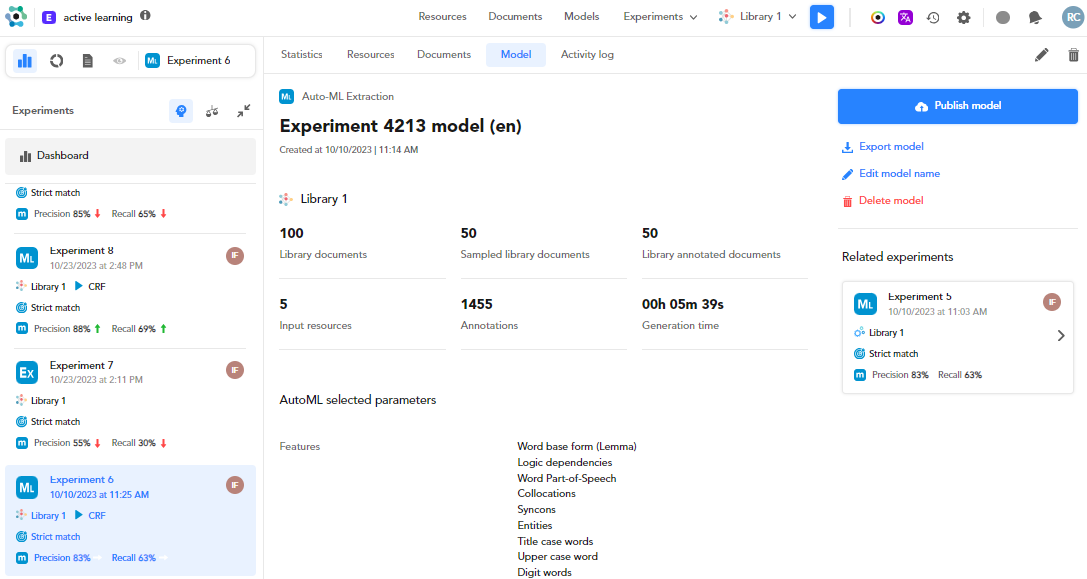 Specifically, from top to bottom, the following items are displayed:
Model type.
Model name.
Creation date and time.
Training library information (Number of documents, sampled library documents, annotated documents, annotations, resources, generation time).
Various train settings and parameters.
Publish a model
To publish a model, select Publish model.
Note
If you publish a model for the first time, type the name in the dialog, then select Publish model.
Unpublish a model
To unpublish a model, select Unpublish model.
Edit the model name
To edit the model name, select Edit model name.
Delete the model
To delete a model, select Delete

or Delete model.
Export a model
To export a model:
Select Export model.
In the dialog, type the name in File name or confirm the suggested one.
Select Export model .
Select Download either in the dialog or in the notification in the lower right corner.
Related experiments
To check a related experiment, double-click the experiment in the Related experiments sub-panel on the right side of the screen. You will see the experiment quality.