Interpret analytics
Overview
To access the analytics view of the Documents tab of the project dashboard select Analytics

on the left toolbar below the main toolbar.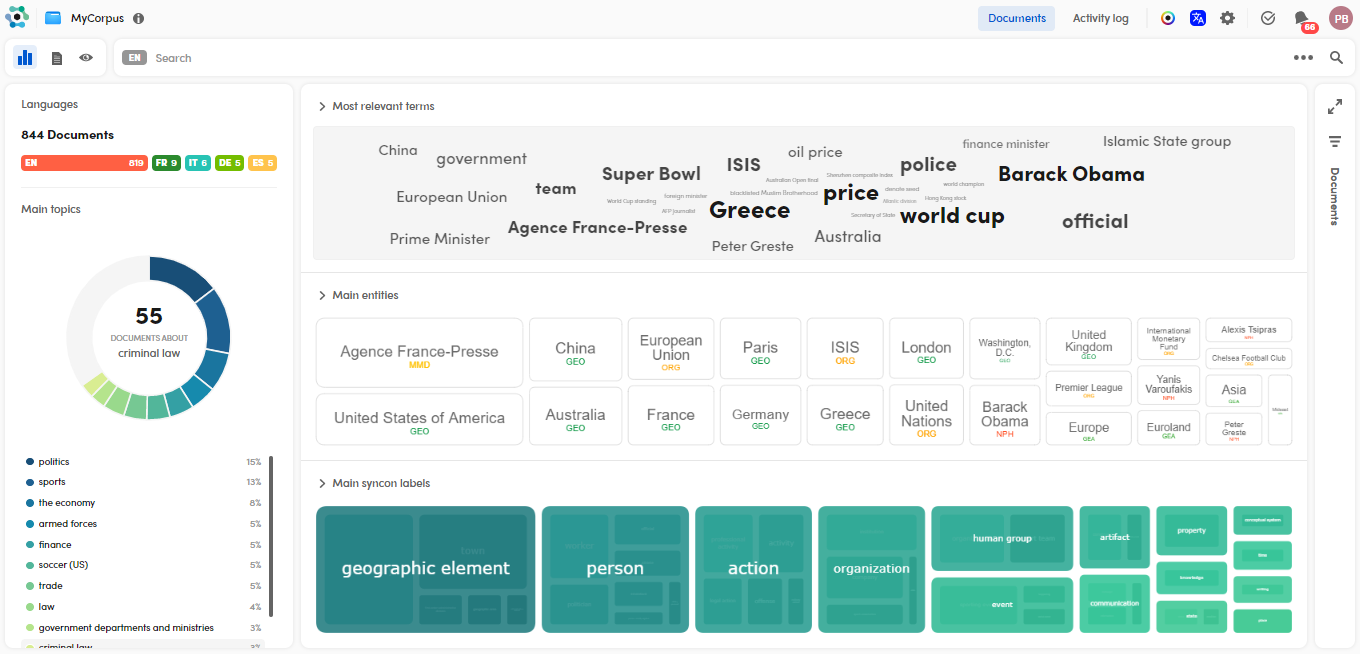 Analytics view is useful for understanding at a glance what the documents in the corpus are about and for obtaining other summary information. It displays corpus documents statistics based on the features of the documents' text discovered by Natural Language Understanding (NLU) analysis at upload time.
It also gives the possibility to search and filter corpus documents.
Panels
Analytics view is divided into several panels:
The Languages panel shows the number of documents and their distribution by language.

The Main topics panel shows the distribution of main knowledge graph topics.

The Most relevant terms panel shows the main lemmas in a tag cloud.
The Main entities panel lists the main named entities in a tree map.

The Main syncon labels panel shows the tree map of semantic labels comprising one or come concepts.
To explode a label to see its constituent concepts, select it.

| | | |
| --- | --- | --- |
| | → | |

To implode a label select its name above the exploded view.

| | | |
| --- | --- | --- |
| | → | |
Panel operations
In Main entities and Main syncon label, if a box is too small to show its entire label, the information icon

is shown instead. Hover over the icon to display the full label.
To put an item of Main topics, Most relevant terms, Main entities and Main syncon labels in the search bar and use it as an operand in the search criteria, double-click it.
Select the expand

and the collapse

icons to expand and collapse the panels in the central section of the page.
The list of documents
The list of corpus documents on the right is affected by any search and applications of the presence-absence filter.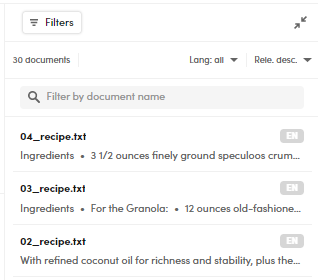 Use Expand

and Collapse

to expand and collapse the list.
Below the button to manage the presence-absence filter

, you will find the number of selected documents and two drop-downs:
With the first you can filter documents by language.

With the second you can sort the list on:

File name
Relevance to the search criteria
In the list, the language is indicated with an icon for each document.
Above the list there is a box that allows you to filter the list by document name. Type at least three characters, the match is case sensitive. Select the X icon on the right to cancel the filter.
To open a document in detail view:
Double-click the document row
Or:
Select the file name in the document row.