Import and export projects
Import a project
Platform provides a wizard to create a new extraction/categorization project starting from an uploaded CPK. If you want to create a new project based on an exported Platform project, you can do it by importing the:
Taxonomy for categorization projects.
Classes for extraction projects.
Concepts for thesaurus projects.
Libraries for all project types.
To start the import procedure, in the main dashboard:
Select:

a. The plus button , then Upload CPK .

Or:

b. Upload CPK in the Create item area.

Or:

c. Categorization in the left column then Upload CPK in the Create project area for a categorization project.

Or:

d. Extraction in the left column then Upload CPK in the Create project area for an extraction project.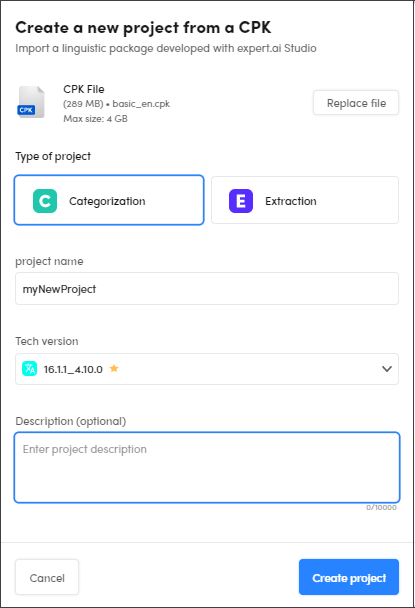 In the Create a new project from a CPK window, select Browse files to get the CPK file or Replace files, if you want to replace it once selected.
If you selected 1.a. or 1.b., select the type of project between Categorization and Extraction.
Enter the project name in Project name and select the technology version from the Tech version drop-down menu.
Enter an optional description in Description.
Select Create project to start the import.
Select Check resources in Project resources to check them, then Next to go on, or select Skip this step to directly go on.
Create the library as already described in the project creation pages for categorization and extraction projects.
Select Open project in the Project summary page to end the creation process and start to work on the project.
Info
If you import a CPK project, you cannot change the resources (taxonomy or classes).
This is marked with a padlock.

Warning
CPK file maximum size is 2GB
Export a project
Platform provides the feature to export a thesaurus, a categorization or an extraction project.
Select Settings in the main project toolbar, then Export project.
Enter the name in Filename, or confirm the suggested one, in the Export project panel, Export tab.
Select the format (.zip available at the moment) in the Extension drop-down menu.
Select All libraries to export all your libraries or Selected library to export the library of your interest.
Select Export.
In the Download tab or in the notification in the lower right corner, select Download.