Edit project settings
Overview
The settings of extraction projects are the same of all other project types, except for the:
See the dedicated page on how to manage the common settings tabs.
Annotation options
Select the Annotation tab.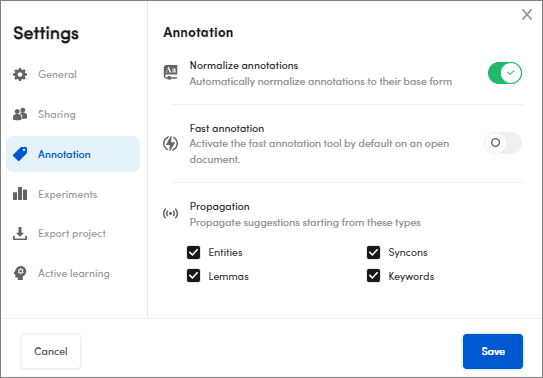 Switch on Normalize annotations, if you want to automatically normalize annotations to their base form.

Switch on Fast annotation, if you want to activate the fast annotation tool on an open document.

To set the items to consider to generate the suggestions, in Propagation, select the related checkboxes:

Classes
Entities
Syncons
Lemmas
Keywords
Select Save to confirm.
Experiment metrics preferences
The Experiments tab is already described in the common tabs of the settings of projects where you can set metrics preferences.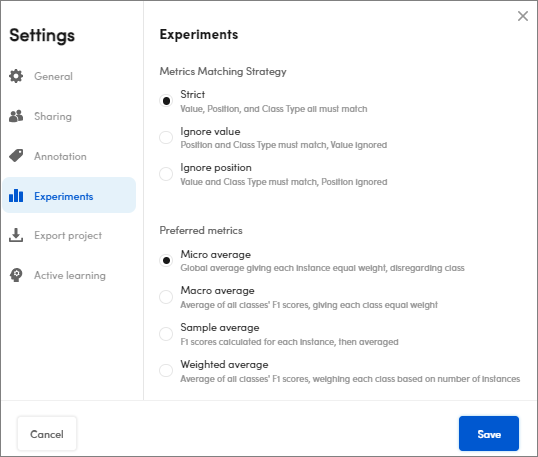 In extraction projects you can also select the default matching strategy for your experiments between:
Strict (default)
Ignore value
Ignore position
Select Save to confirm your choices.
Active learning
To set the Active learning parameters: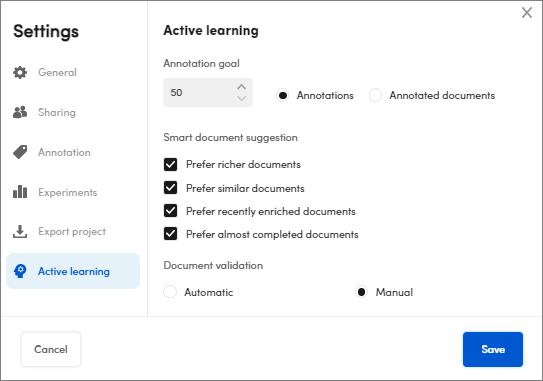 Enter the Annotation goal that is the manual annotation amount to perform (min 50) or the number of manual annotated document (min 10) to start the annotations suggestions generation.

In the Smart document suggestion section, you can set what type of document is suggested for the next annotations.

Select:

Prefer richer documents if you want documents with a large number of extractions but not annotated.
Prefer similar documents if you want related documents.
Prefer recently enriched documents if you want recently analyzed documents.
Prefer almost completed documents if you want a non-validated document with a large number of annotations.

If you select all options, the order of preference is as displayed in the dialog.

Under Document validation, select:

Automatic for the system validation procedure that is activated for all the annotated documents.
Manual if you want to validate the documents when you decide.