Knowledge Graph Editor Settings
Introduction
The Knowledge Graph Editor Settings window—only for Enterprise Edition—allows you to extend the project's Knowledge Graph.
To open this window:
Select Knowledge Graph Editor on the toolbar.
Or:
Select Studio > Knowledge Graph Editor on the main menu.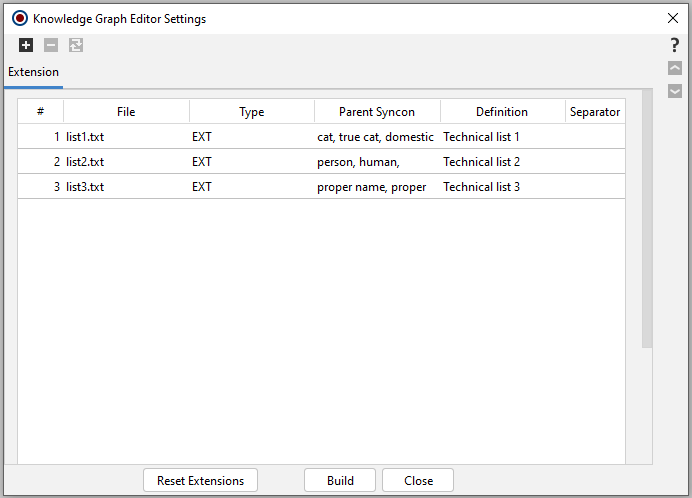 The window contains a toolbar, a table with a list of imported files and action buttons.
Toolbar
| Icon | Name | Description |
| --- | --- | --- |
| | Add Import File | Import a .txt or .csv file, adding it to the list. |
| | Remove Import File | Remove the selected file from the list. |
| | Reimport File | Re-import the selected file after some changes. |
| | Up and Down | Change the evaluation order for the selected file during the build operation. |
Imported files list
The table inside the window shows the list of imported files.
| Name | Description |
| --- | --- |
| # | Build evaluation order |
| File | File name |
| Type | File type |
| Parent Syncon | Lemmas of the Knowledge Graph syncon that is going to be the parent of imported syncons in the supernomen/subnomen hierarchy |
| Definition | File description |
| Separator | Separator character |
Action buttons