Deploy the project
Deploying a project means creating a run-time version of the text intelligence engine other programs can use to perform categorization and extraction on real-world texts.
Depending on your release model, you can make the engine available directly in the production environment or in a test/staging environment and then copy it to the production environment once quality checks have been passed.
To deploy a project:
Select Studio > Deploy on the main menu.
Or:
Right-click anywhere inside the Project tool window and select Deploy.
Or:
Or:
A dialog appears where it is possible to choose what to deploy and set the destination folder.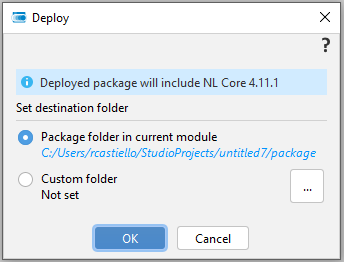 You can deploy a linguistic package file with .cpk extension containing all the project files.
If you accept the default choice for the destination folder, files will be created in the project's package folder. You can check it from inside the Project tool window.