Favorites
This tool window lists favorite project items.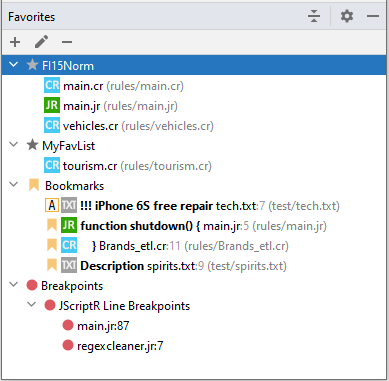 They can include:
Project items such as files and folders
Bookmarks
Breakpoints
When the project is created, the list is empty.
It is possible to create more lists and move items between them.
Title bar
In addition to the window management commands common to all the tool windows, the title bar contains the Collapse All button

to collapse the list hierarchy.
Toolbar
| Icon | Name | Description |
| --- | --- | --- |
| | Add New Favorites List | Add a new list of favorite items |
| | Rename Favorites List | Change the name of a list |
| | Remove From Current Favorites | Delete an item or a list1 |
---
The Bookmarks and the Breakpoints lists cannot be removed. ↩