Modules Manager
Introduction
The Modules Manager window allows you to manage Studio pre-defined modules.
To access this window, right-click the rules folder and select Modules Manager.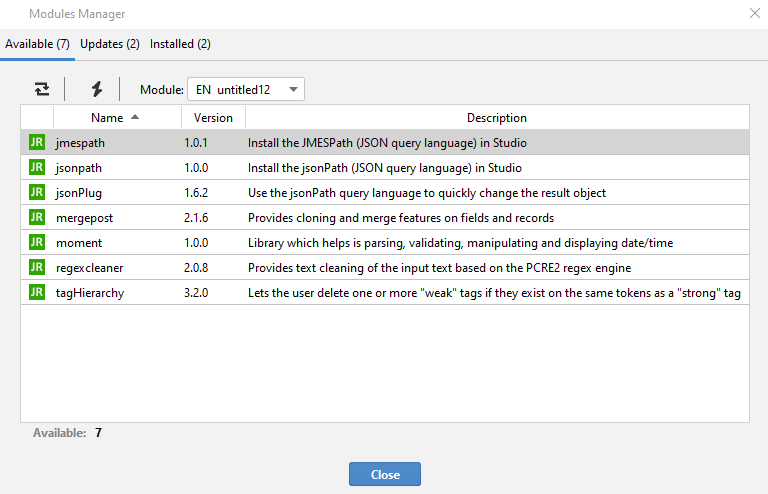 There are three tabs:
Available to install the available modules.
Updates to update the downloaded modules.
Installed to check and remove the downloaded modules.
Note
You can sort the list of modules by selecting the column headers.
Select the project module you're working in the Module drop-down menu.
Available
The Available tab has these columns:
| Name | Description |
| --- | --- |
| Name | Module name |
| Version | Module version |
| Description | Module description |
Toolbar
| Icon | Name | Description |
| --- | --- | --- |
| | Refresh | Refresh the list of available modules |
| | Install | Install selected modules |
Updates
The Updates tab has these columns:
| Name | Description |
| --- | --- |
| Name | Module name |
| Version | Module latest available version |
| Installed Version | Module installed version |
| Installed Path | Module location |
| Description | Module description |
Toolbar
| Icon | Name | Description |
| --- | --- | --- |
| | Refresh | Refresh the list of available modules |
| | Update | Update selected modules |
Installed
The Installed tab has these columns:
| Name | Description |
| --- | --- |
| Name | Module name |
| Installed Version | Module installed version |
| Installed Path | Module location |
| Description | Module description |
Toolbar
| Icon | Name | Description |
| --- | --- | --- |
| | Refresh | Refresh the list of available modules |
| | Remove | Remove selected modules |